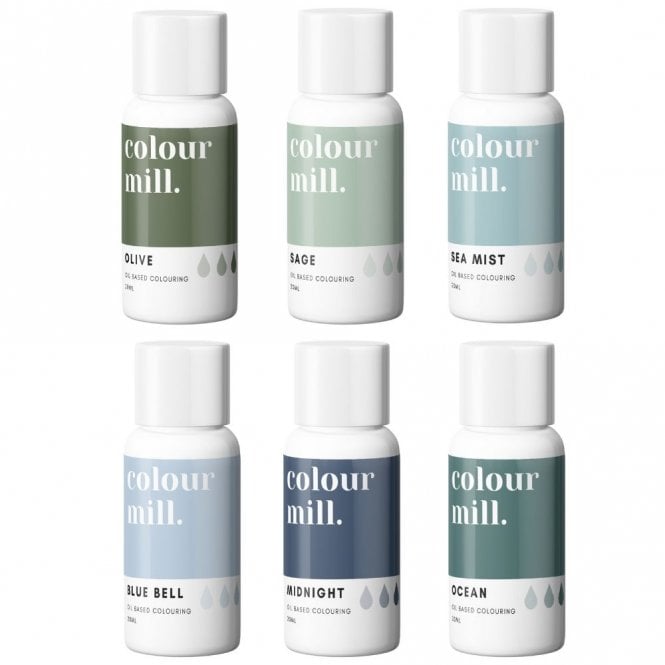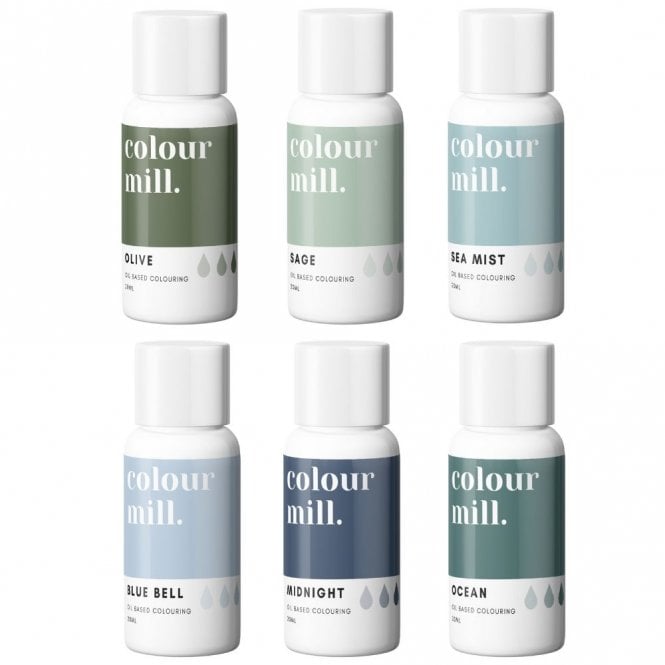 Colour Mill Coastal Range Oil Based Food Colouring x6 20ml
Colour Mill Coastal Range 20ml set of 6- Blue Bell, Olive, Ocean, Midnight, Sea Mist, Sage 🌊 
Introducing Colour Mill.
DELIVERY INFO- If ordered before 11.30am Monday-Friday, items will be sent same day. If ordered after 11.30am or at the weekend, items will be sent next working day. If ordered with equipment or merchandise, parcel will be sent 48 tracked. If ordered with treats (cake jars, brownies etc), items will be combined and send 24 tracked 📦 🇬🇧 ⚠️ 

Unlike conventional gel colours, our oil-pigment blend embraces the fats & oils in your baking.
We dye and disperse our colouring using these oils, allowing you to achieve rich & vibrant results.
Colour Mill is a family owned, Australian based food colour manufacturer specializing in the cake and bake industry. 🇦🇺 

With over 30 years experience in our industry, we have seen trends come and go. From fondant to royal icing, buttercream to chocolate. Through all of this, the way we dye with food colouring has stayed much the same. 🎨 

Utilizing modern formulas and processes, Colour Mill has developed a range of Oil Based Pigment Colouring which outperforms conventional gel colouring. 🍰 
What's the secret? 🤫 

Unlike conventional gel colours, our unique blend loves the fats & oils in your baking.
We dye and disperse our colouring using these oils, allowing you to achieve a rich & vibrant result.
Best in Buttercream, Swiss Meringue, Chocolate, Cake Batter, Ganache, Fondant & many more. 🧁 

Directions:
Shake well before use
Take it easy, colours will develop over time
Store in a cool dry place away from sunlight. ☀️ 

Blended & bottled in Australia from local & imported ingredients. 🇦🇺 
Ingredients 

Blue Bell: Glycerol E422, colours: E171, E133, E120, emulsifier & stabiliser: lecithin E322
Olive: Glycerol E422, colours: E102, E133, E172, emulsifier & stabiliser: lecithin E322
Ocean: Glycerol E422, colours: E171, E102, E133, E132, emulsifier & stabiliser: lecithin E322
Midnight: Glycerol E422, colours: E172, E120, E132, emulsifier & stabiliser: lecithin E322
Sea Mist: Glycerol E422, colours: E171, E102, E133, E172, emulsifier & stabiliser: lecithin E322
Sage: Glycerol E422, colours: E171, E102, E133, E172, emulsifier & stabiliser: lecithin E322